Written by Brett Kahr
Reviewed by Kevin Jeffrey Goldwater
Often considered the most influential psychoanalyst from the English-speaking world, Donald Winnicott has become the 'if you could invite one person to dinner' of choice for many a psychoanalyst. After his passing in 1971, dreams to interact with Winnicott were dashed and the world was left with his immense legacy and without hope to speak with him. However, in the first offering of Karnac Book's Interviews with Icons series, we are cleverly brought into a private conversation with Winnicott and a Winnicottian historian, the author Brett Kahr.
Introduced by Winnicott's now deceased private secretary, Joyce Coles, the two sit for ten 'cups,' or chapters. The book is set up not as a novel, but as a dramatic libretto. Kahr's conversation with Winnicott follows a chronological understanding of Winnicott's life and his work. Beginning with The resurrection of Dr. Winnicott, Khar explains Winnicott's current legacy to him, and the two chat, developing a repertoire and characterizations for each character that are seen in the rest of the book. Moving on to The making of a maverick, Cup 2, begins the chronological overview, and this is the way the rest of the book progresses. An undistinguished physician, Cup 3, discusses Winnicott's years as a pediatric physician his transition to psychoanalysis, and Lurching towards war, Cup 6, discusses Winnicott's life during World War II and the division into the three groups for the infamous controversial discussions within the British Psychoanalytical Society. Finally, Cups 8 through 10, including A crash course on Winnicottiana and A psychoanalytic maestro conclude the conversation with a more direct review of Winnicott's theories rather than discussing them through his personal history. With an epilogue explaining his connection with Winnicott, Khar ends his book stating the importance and relevance of his and Winnicott's work.
Khar's book is captivating, entertaining and wholly original. As a Winnicott historian, his book tends to act as a biography with theories added at the end. An attempt to sew Winnicott's work and theory into the biographical portion as a working pair is noted. However, the last three 'cups' seem to be the concluding proof about why the aforementioned biography was important, rather than a tag team to provide an overview of Winnicott in general. It would be a mistake and an underappreciation of the book to pick it up with no prior knowledge. The book really is a personal meeting with Winnicott with the reader serving as Khar, and the value lies in understanding the value of Winnicott. Despite this, Khar successfully creates an original form of biographical and theoretical relation that keeps the reader interested and refreshed, and gives the reader a personal standing in the Winnicottian world.
Tea with Winnicott is a pleasure. It really does seem like a real conversation with the acclaimed psychoanalyst, and allows the reader to develop a personal understanding of Winnicott as not just a figure of modern psychoanalysis, but as a regular person. Often funny and charming, Winnicott ends up capturing your attention and perhaps even your heart, creating a valuable place on the shelf to reflect on the importance and value of Winnicott.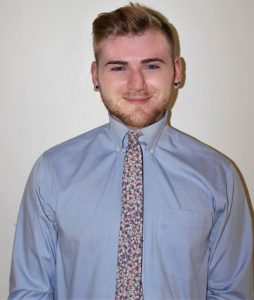 Kevin Jeffrey Goldwater studies applied psychology with a minor in music at New York University and is set to graduate in May of 2019. Born in Chicago, Kevin has done immersive research on psychoanalytic theory and the role of gender in today's media. In addition to working for Somatic Psychotherapy Today, he writes reviews for the International Journal of Psychotherapy.