We mourn the loss of a colleague
In a world which is increasingly superficial and directed to appearances and the outside world Joop was a man of character and depth.
Not to say that he didn't care for his personal appearance – on the contrary, he did. He dressed with flair. Perhaps the first thing you noticed about him was his beautiful coat or hand-crafted shoes; then his tall stature, greying hair and marked face, which could crease with a grin and warmth, or with great seriousness.
Joop listened. He chewed over what you said – perhaps for some minutes, some hours or sometimes days. Then would come a comment or an answer to a question or a problem, which he had considered from many different angles. He was never satisfied with a simple answer – his solutions were rounded, thought out, compassionate, surprising, meaningful.
I personally met Joop in 1999 when he came to the training I was following to talk about EABP. I felt drawn in, attracted by how he talked about his work and the Association and what it could offer us as newly trained psychotherapists. It wasn't a sales-pitch – what he said made sense, was intelligent, had passion.
Then I attended the congress in Travemünde and his workshop on outfit ("Second Skin") and personality. It was at this congress that he offered the NVLP as organiser for the next EABP congress in Egmond aan Zee in the Netherlands in 2001 and he asked me to organise.
Joop had established the NVLP – the Dutch National Association – in 1999 ­– and with a small group of dedicated people around him, built it up by inviting in the BP modalities in the Netherlands and organising together the biannual symposia with excellent guests and workshops by the modalities' members. He was also in the first board of the NAP (the Dutch EAP) and stimulated the BP modalities to join this organisation.
We both remember our first organisational meeting in my office when we got into an argument about an English word. Joop was particular about translation – and I had taught English and was a native speaker. I stood my ground and this time I managed to prove – eventually – that I was correct. But there began years of being corrected on language, punctuation, layout, where my ego took a dent, but where I began to appreciate his perfectionistic eye for detail. The results were always worth it. Everything that Joop did fitted.
Joop had been with the EABP from the beginning. He was a psychologist and trained in Unitive Body Psychotherapy with Jay Stattman. He had attended all the congresses and worked on several committees including the Training Standards Committee. Joop was present at the formation of the FORUM and the COUNCIL of National Associations.
To read the remainder of Jill van der Aa's article, please CLICK HERE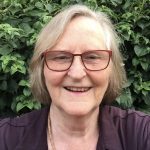 Written by Jill van der Aa