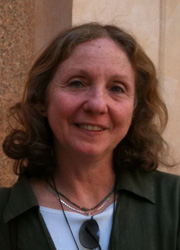 Common ground is an interesting phrase that has been in usage for a long time. The term "common ground" means different things to different people and sometimes even different things to the same person at different moments of his/her life.
What exactly do we mean by the term "common ground" was the starting point for our discussion with each participant bringing a specific contribution to this dialogue and debate. In our field, in what ways do we perceive the common ground of body or somatic psychotherapy? Which elements do we share? And possibly, is there no common ground in what we are doing?
I joined Ulfried Geuter, Michel Heller, Eleni Stavroulaki, Luisa Barbato and Judyth Weaver in a roundtable discussion at the 15th European Congress of Body Psychotherapy (in Athens, Greece) that provided an initial step toward fostering a process for discovering layers of meaning through interactive dialogue ('dialogos' – διάλογος), a collective exploration of ideas, and the raising of new questions. The presenters brought together seemingly contrasting elements to create and discover new meanings through dialogue.
We would like to invite everyone to engage with the topics, themes and experiences explored openly and in a spirit of wonder. In this way, we can find our way to something entirely new. 'A stream of meaning flowing among and through and between us'.
Finding common ground and nourishing it can enable an understanding that the strength of our models of practice lies in continuously building common ground of our professional landscape.
The short pieces in the linked PDF explore some viewpoints, questions and examples of our representation of the common ground. These include some of the beliefs, the main elements and arguments which are present in the way we practice. Do certain propositions have a "common ground status"?
We look forward to continuing this dialogue and debate!
Sheila Butler