As a group therapist I witness member-to-member and member-to-leader interactions promote not only group cohesion but also psychosocial/emotional growth. By explaining how authentic face-to-face social interactions strengthen the functioning of the vagus system, improves social experience and tamps down sympathetic tone, the Polyvagal theory offers a glimpse into the somatic healing power of group dynamics.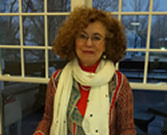 We all have the potential for wisdom to emerge through the intuitive channels of mind/body and Soul. This intelligence presents a powerful vehicle for accessing information that can keep us healthy, keep us in touch with our true Selves, and help us cope with life.
What does it mean to provide a somatically attuned and integrated style of psychotherapy? How can attunement to the innate organic wisdom of the body help us guide our clients to discover and use the healing resources within? Questions like these often guide the essential aspects of our clinical work. We leave our graduate programs, our modality trainings, our seminars and workshops and then consider, how do I bring it all in? Bette Freedson, LCSW, offers her first monthly blog: Soul Wisdom to discuss intuition, Self-wholeness and holistic integration of body, mind, soul in psychotherapy.