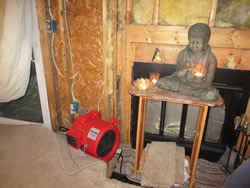 There's a feeling I get when synchronicity lures me into God's flow, when I relax into the sensation of overwhelm and embrace the blessings and embody the spirit of goodness despite my mind (that curmudgeon old reptilian brain of mine) wanting to focus on the negative, react to the bad. Gifts from God. Blessings from Chi. Buddha's presence.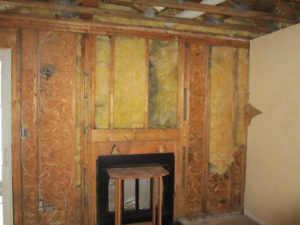 A month ago, a pipe burst in an upstairs wall in my home. Fortunately, the small space where SPT is created was spared while the rest of my home was inundated with water and the resultant outcomes (ceiling collapse, walls torn out, flooring removed, personal property damaged, destroyed). That experience, combined with the now four weeks of frustration due to frigid temperatures (think 45 mph winds gusting through open walls; even my cement Buddha scrunched its shoulders up tighter to ward off the freeze) and frozen communications with the company hired to do the mitigation and restoration work, resulted in intense feelings of powerlessness (a familiar feeling from long ago).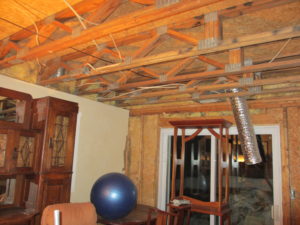 Then, yesterday morning an unexpected visitor SKYPED into my life bringing his warmth and remedy. I received an email from Ulf Sandström inquiring about my intentions for his work.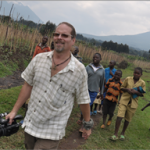 I had no idea who he was and thought I must have sent a query regarding trauma work for our Fall issue and lost track of it. I checked out his website, Peaceful Heart Network. Impressed and intrigued, I started an email exchange that lead to a SKYPE conversation—me still drinking my morning coffee looking anything but professional. Ulf discussed his work integrating Tapping (adaptation from Emotive Freedom Technique), Reflective Repatterning and Havening Technique to empower people to heal themselves and then others in their communities who have survived massive devastation. He discussed how they work with different cultures where parts of the EFT process were antagonistic to their belief systems, and how to work with people who honestly cannot say they forgive themselves, their body for the pain and suffering but to say, I want to forgive. He spoke rapidly and I was enthralled rather than taking copious notes—I wish I had.
We had a productive talk: Ulf writing a guest blog-post; a copy of the book, Resolving Yesterday: First Aid for Stress and Trauma with TTT, co-authored with Gunilla Hamne to review in conjunction with an interview about their writing process; and articles for both SPT and the International Body Psychotherapy Journal.
Then, as if all this goodness wasn't enough, Ulf offered to do some work with the trauma related to the flood and destruction in my home. In the wake of genocide, war and rape—having heard about his work with men and women in Rwanda, the Congo, South Sudan, and more—my situation felt insignificant; and yet, the emotional and embodied response was real and apparent. I was traumatized by the experience.
Sitting in my makeshift office mimicking his words and movements, I repeated phrases he offered me, "I hate powerlessness, I love powerlessness, I love to hate powerlessness, I hate loving powerlessness, I hate people who love powerlessness, it's all Obama's fault" and so forth. While saying the phrases, I gently stroked my arms and then areas on my face (across the forehead, down the cheeks). When we were done, I was laughing. I felt lighter inside; however, on a scale of 1 to 10, where I had started with an 8 for powerlessness that translated into sorrow, there was still a 2 of sorrow within. We worked with visualizing the sorrow and seeing if I could downsize it from 2 to 1.5 then 1.2 then 1 and so forth until we hit zero. This overwhelming sorrow that had cast me aside, left me downtrodden, lifted and was replaced by hopefulness and joy.
I was amazed. Rather than go into technical details about the process today, I offer Ulf's guest blog and my intention to review the book and interview he and Gunilla. Stay tuned.