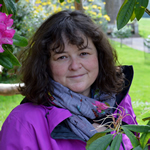 Reflections
Part of me always anticipated motherhood with warmth, accompanied by an inner mantra: 'I'll have kids by the time I'm 30'. I guess this was my personalised version of what Melanie Holmes calls the 'motherhood catechism' in her book The Female Assumption: The schooling of females to assume that they will someday become mothers (Holmes, 2014: 9). It's strange to recall that even by the late 1990s it wasn't obvious, to me, at least, that child-bearing was and is a choice – the first time that I had paid attention to the pronatalism of our societal messages.
My final decision not to procreate emerged from a dream, the day after lunching with my best friend, Vicky, and her sharing with me the happy news of her pregnancy. My life was taking a different path. Yet it had dawned on me only a few years earlier that having children wasn't compulsory. Realising this, I had made the provisional decision not to have them, to sit with this and to see how it felt, after years of never having questioned that I would one day become a mother. It's 14 years since I dreamed that dream, the beginning of my researching and writing about elective childlessness. The day after that dream I found myself deciding to write the book that I had failed to find, eagerly scanning online booksellers.
What was I seeking, searching the web for the book I couldn't find?