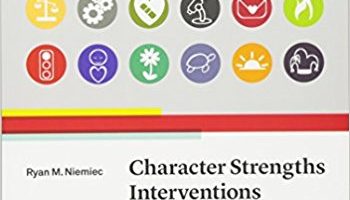 Currents
I read, I review. I rarely comment. The difference? I offer glimpses into a book, noting
the content, the writing style, the potential impact on a reader, often sharing my personal
reactions to the material with a familiar first person writing style. An academic commentary
proposes both a different tone and approach. One that offered a challenge until I realized
that a commentary is just that, a personal reaction pinpointing part of the material that
potentially impacts either me personally or my field of study and interest, in this instance
psychotherapeutic interventions that offer clients and ourselves a way forward.
I read Ryan Niemiec's newest publication, Character Strengths Interventions: A Field
Guide for Practitioners, with no background experience in positive psychology, no concept
of what character strengths are or how to integrate them into my life or my professional
work. I quickly learned that character strengths are positive traits that are core to our
being—our identity—and our doing, aka our behavior (pg. 2).