Browsing: Gustl Marlock

Body Psychotherapy
Post-modern challenges to embodiment and human vitality: a view from the street and the therapy room with Gustl Marlock
Nancy Eichhorn offers her experience listening to six speakers' viewpoints at the day long celebration honoring The Handbook of Body Psychotherapy and Somatic Psychology in a four-part blog posting with some longer writings and some short eclipses of the content shared. As well, she hopes to reflect their collective themes that resonated with William Cornell's call for institutions to train 'embodied' psychotherapists rather than body psychotherapists—a play on the aliveness of the adjective rather than the solid structural nature of a noun.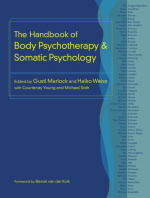 Reviews
There's always this sense of anticipation when I read a book by editors and authors I personally know. My belly churns; there's an involuntarily pause before I exhale and my heart adds a beat to its rhythmic song because a resonance exists that translates from colleague to text. I hear their voice while reading as if we are together, in person, having an amicable chat.
When I heard that Halko Weiss, Courtenay Young and Michael Soth were part of The Handbook of Body Psychotherapy and Somatic Psychology, when I heard that many colleagues had contributed chapters, I immediately had to read it and share my thoughts with SPT Magazine's readers.