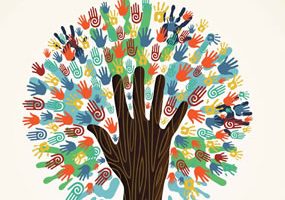 Reviews
Touch is essential to human life. From the earliest writings by Ashley Montaqu (1971) who discussed the importance of nurturing touch to help babies thrive physiologically and emotionally to a recent study lead by Nathalie Maitre at Nationwide Children's Hospital in Columbus, Ohio that demonstrated the significance of sensory experiences in early life on brain development— physical attention during a baby's development, during our entire lives in fact, is important—the more you hug and cuddle your babies, the more their brains grow.
According to Maitre, our sensory system supporting touch and bodily sensation is the earliest to develop in human beings; further, it forms the basis for other sensory development as well as our cognitive and social development. Maitre's study established that nurturing touch is essential for infant development with study outcome demonstrating that positive proper touch increased brain activity while negative touch (pin pricks, tube insertions) decreased brain activity.
As human beings, we crave touch. There's an instinctive need to feel another—be it a lover's hand, a mother's breast. The soft fuzz of an animal's fur, even the gristle of a father's beard can create pleasurable sensations when contact is loving and supportive. As body psychotherapists, many of us acknowledge the value of appropriate touch in the therapeutic setting—of course within proper boundaries and acceptable containment and with the client's permission. As therapists, we must be clear about why we want to integrate touch, discuss what kind of touch, and for whose purpose the touch is occuring (certainty not to make the therapist feel better!).