Mindfulness is trending. It's been on the forefront of conversations in terms of Western therapeutic methodologies since Jon Kabat Zinn integrated it into his Mindfulness-Based Stress Reduction program (MBSR) in the early 1980s. Today, mindfulness practices are at the heart of many psychotherapeutic approaches such as: mindfulness-based cognitive therapy (MBCT); acceptance and commitment therapy (ACT); dialectical behavior therapy (DBT); mindfulness-based relapse prevention (MBRP); mindfulness-based trauma therapy (MBTT); and mindfulness-based eating awareness training (MB-EAT). The word itself, however, is often confused. Its meaning subjectively associated with who or what entity is promoting its use. There's clearly a difference between Eastern approaches to meditation and mindfulness and the current Western emphasis. With the proliferation of modalities integrating components of meditation and mindfulness practice, this book is a welcome addition to Hogrefe's Advances in Psychotherapy: Evidence Based Practice Series—noted as Volume 37.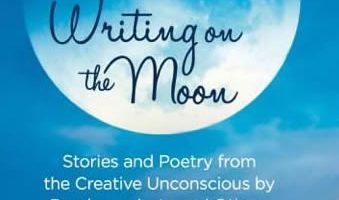 Writing on the Moon is fifteen years in the making and it is about imagination and originality—two crucial elements in our creative life—and the ability to magically rearrange memories and emotions that have been stored away in some deep and 'unworded' place. Young children have direct access to their creative unconscious and touch of wonderment. But many of us lose some of that ability as we get older and become more constrained and concrete— and perhaps frightened of that playful part of ourselves.
When I was a young girl I would spend hours in my large walk-in closet, playing with my imagination. I would put on my glasses and my wooly cape, and I would make up stories of traveling across the desert to live in a small Bedouin town, selling exotic perfumes. Or turning jewels into meteor showers. I would consult elders about secret watering holes, which led to narrow trails and berry patches. The elders scratched a map in the dirt and showed me where quicksand hid and monsters lurked.