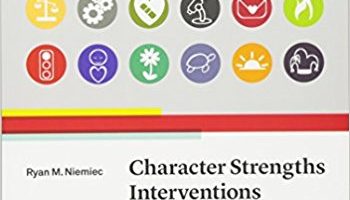 Positive psychology is rooted in the idea that human beings want to thrive and engage in things that enrich their experiences and cultivate a meaningful life. In his 2014 book, Mindfulness and Character Strengths: A Practical Guide to Flourishing, author Ryan M. Niemiec discusses how practicing mindfulness can help individuals identify, understand, and apply their character strengths and create a pathway to a fulfilling life. He takes readers through Drs. Christopher Peterson and Martin Seligman's program Mindfulness-Based Strengths Practice (MBSP), relays inspiring success stories about finding meaning via MBSP, provides useful handouts to guide readers through MBSP, and gives tips for practitioners such as how to apply MBSP to different settings and situations.
Mindfulness and Character Traits received praise for its revolutionary perspective. It reads like a self-help book, perfect for individuals who want to learn how to personally achieve mindfulness and discover their character strengths; however, it wasn't written with the goal of teaching practitioners how to implement MBSP in their practice with their clients. With that in mind, Niemiec (2018) wrote his recently published book, Character Strength Interventions: A Field Guide for Practitioners for Practitioners. Additionally, he focuses more on the core of positive psychology, character strengths and less on how to achieve mindfulness. He educates the reader on the foundations of character strength interventions, relays evidence to support his claims about the usefulness of character strength interventions, and explains countless interventions step-by-step providing practitioners with a useful handbook.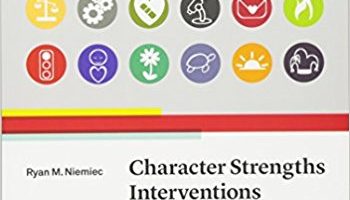 I read, I review. I rarely comment. The difference? I offer glimpses into a book, noting
the content, the writing style, the potential impact on a reader, often sharing my personal
reactions to the material with a familiar first person writing style. An academic commentary
proposes both a different tone and approach. One that offered a challenge until I realized
that a commentary is just that, a personal reaction pinpointing part of the material that
potentially impacts either me personally or my field of study and interest, in this instance
psychotherapeutic interventions that offer clients and ourselves a way forward.
I read Ryan Niemiec's newest publication, Character Strengths Interventions: A Field
Guide for Practitioners, with no background experience in positive psychology, no concept
of what character strengths are or how to integrate them into my life or my professional
work. I quickly learned that character strengths are positive traits that are core to our
being—our identity—and our doing, aka our behavior (pg. 2).